What you need to know
On Tuesday, Microsoft announced its earnings for the FY23 Q2 period ending Dec. 31, 2022, including for Xbox.
The Gaming division at Microsoft saw a 13% decline in revenue versus the same period a year ago, or FY22 Q2.
This includes a 12% decline in Xbox content and services and a 13% decline in Xbox hardware sales.
This is within Microsoft's expectations following the previous year of strong demand, and is partially offset by continued Xbox Game Pass growth.
---
Right on time, Microsoft has released its quarterly earnings report for the period that ended on Dec. 31, 2022. The FY23 Q2 release takes a look at the prior three months of business for Microsoft and compares it to the same period in the previous fiscal year, including for the Xbox and gaming divisions.
Microsoft's FY23 Q2 earnings report (opens in new tab) is mostly inline with expectations, with Microsoft previously providing guidance of a general decline in revenue for the Xbox division. The More Personal Computing segment, which includes Windows commercial and cloud products, Windows OEM, Surface, search and advertising, and Xbox, reported $14.2 billion in revenue, a 19% decrease year-over-year. This was below the $14.5-14.9 billion estimated by Microsoft.
Gaming, specifically, saw a 13% year-over-year reduction in revenue at Microsoft, with a 12% decline in Xbox content and services and a 13% decline in Xbox hardware sales. Microsoft attributes this decline to a strong prior year during FY22 Q2, declines in first-party content demand, and lower monetization in third-party content. The decline was partially offset by continued growth in Xbox Game Pass, which has been a persistent highlight for Microsoft quarter after quarter.
The three-month period contained only a singular first-party launch for Xbox Game Studios in Pentiment. While critically acclaimed, Pentiment was not a high-profile launch for the platform. In comparison, the prior fiscal year saw Age of Empires IV, Halo Infinite, and Forza Horizon 5 launch in the same period, leading to a massively increased demand for first-party Xbox products and hardware.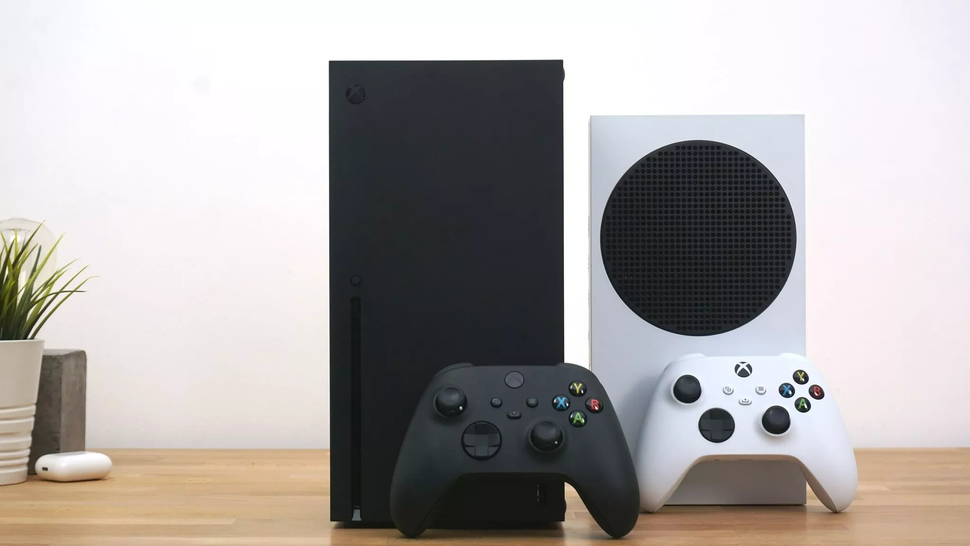 Xbox Series X|S consoles have continued to sell, especially over the Black Friday period, but it seems that overall demand was not as high as in the previous year. Microsoft specifically cited this decline as being "driven by lower price and volume of consoles sold." The former reason likely refers to the Xbox Series S being sold with substantial discounts through the Black Friday period. There was also a decline in revenue from third-party titles, including some of the best Xbox games you can play.
Microsoft's gaming division is gearing up for a busy next few quarters, however, with multiple anticipated first-party releases in the coming months like Minecraft Legends, Starfield, Redfall, and Forza Motorsport (2023). The upcoming Xbox Developer_Direct show will detail each of these games and provide more details to players.
In case you missed it, Microsoft recently announced its intention to cut 10,000 jobs before the end of FY23 Q3 on March 31, 2023 in an effort to combat financial headwinds and an impending economic recession. Several Xbox studios were affected by these layoffs, including Halo Infinite developer 343 Industries. The effect of these job cuts and the associated costs is expected to be reported during the next quarterly earnings report.
Overall, Microsoft reported revenue of $52.7 billion, an increase of 2% year-over-year driven predominantly by a 22% increase in cloud revenue. After the earnings report release, Microsoft's share prices are up 4% in after-hours trading.
Windows Central's take
The decline in Microsoft's More Personal Computing segment was largely due to huge recessions in Windows OEM and Surface revenue, but the Xbox division also experienced a reasonable reduction in revenue. Microsoft expected all of these dips, although the Surface division was seemingly hit particularly hard due to a combination of reduced demand for PC hardware and lackluster offerings from the company in recent months.
As for Xbox, there was no chance of Pentiment standing by itself and competing sales-wise with the launch of three high-profile, AAA first-party Xbox launches in the previous year. With both Forza Horizon 5 and Halo Infinite also including hardware tie-ins and bundles, it's no wonder that Xbox content and services experienced a decline. This also likely contributed to the decline in Xbox hardware sales, despite Xbox Series X|S consoles seemingly selling well through the holidays period. Fortunately, Xbox Game Pass continues to do well, providing unbeatable value to subscribers.
The economy is complicated and chaotic at the moment, to say the absolute least, but Microsoft's latest earnings report is pretty much exactly as the company expected. It'll be interesting to see how things change over the next two quarters, both as the company unfortunately follows through with its planned layoffs, and as first-party Xbox studios finally deliver some of the projects that have been in the works for many years.